In the United States, 58.5 million people have arthritis. That's one out of every four adults who are limited by pain, swelling, and stiffness in or around their joints. Although osteoarthritis and rheumatoid arthritis are two of the most common forms, there are actually more than 100 different documented types of arthritis. If you or someone you love suffers from arthritis, CBD may be a natural solution to help ease issues stemming from arthritis.
Many people living with arthritis pain are starting to discover the benefits of cannabidiol (CBD) as a treatment. For those new to its benefits, CBD comes from the Cannabis plants hemp and marijuana. While both plant species contain over 120 cannabinoids or naturally occurring compounds, the two plants have one significant difference – hemp contains .3 percent or less of THC, the cannabinoid associated with psychoactive effects or 'getting high.' And because hemp includes an abundance of cannabidiol, better known as CBD for short, and such little THC, unlike marijuana, it makes it the ideal plant species for extracting CBD for health and wellness products.
CBD can provide a variety of benefits. Here are 7 ways that CBD can help.
Chronic pain is often the most dominant issue associated with arthritis. In a 2017 Consensus Study Report published by the National Academies of Sciences, Engineering, and Medicine, researchers found that adults living with chronic pain "who were treated with cannabis or cannabinoids are more likely to experience a clinically significant reduction in pain symptoms." Beyond pain, men and women living with this disease can also experience a variety of health issues. In a recent survey of 2,600 arthritis patients led by the Arthritis Foundation, roughly 3 out of 4 respondents who use CBD reported it was either effective or very effective in helping to relieve several of their symptoms.
Some benefits of adding CBD to your daily routine may include assistance with: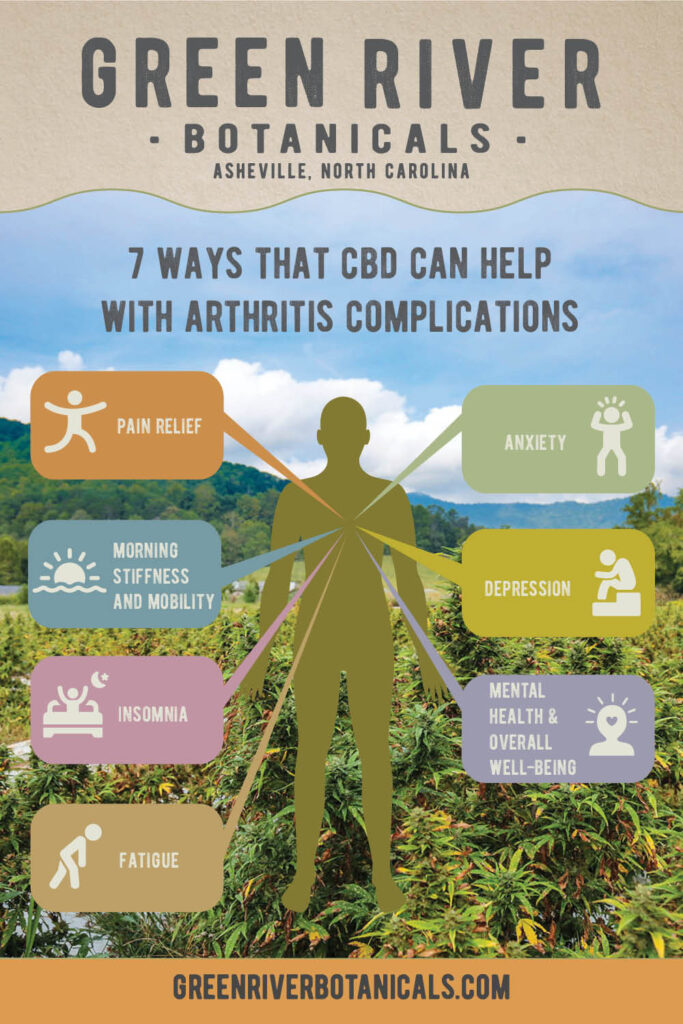 Pain relief
Morning stiffness and mobility
Insomnia
Fatigue
Anxiety
Depression
Overall mental health and body well-being
CBD's anti-inflammatory properties reduce pain and swelling by supporting the body's endocannabinoid system.
The endocannabinoid system is our body's complex cell-signaling system that regulates body processes, including our immunity, mood, metabolism, sleep patterns, stress, memory, and pain response. The human body naturally produces endocannabinoids found throughout the body's organs and tissues, including the brain, glands, and immune cells. The cannabinoid CBD is chemically similar to human endocannabinoids. CBD achieves a broad spectrum of positive effects when consumed or absorbed through the skin by interacting with receptors in our endocannabinoid system – just like our body's own natural endocannabinoids.
In a recent 2020 study published in the peer-reviewed online academic journal Cell Death & Disease, researchers discovered that CBD reduced the production of Rheumatoid arthritis synovial fibroblasts (RASFs). These cells are responsible for invading and degrading cartilage and bone in people living with arthritis. Scientists in this study discovered that CBD promotes anti-arthritic activity by impeding the production of RASFs, which can alleviate arthritis inflammation.
How to start incorporating CBD into your daily regimen
For those new to CBD, users should start with 25 mg (a .5 ml dropper dose of Green River Botanicals 30 ml / 1500 mg bottle) twice daily and increase slowly over time. For some, a range of 37.5 mg (.75 ml dropper dose of Green River Botanicals 30 ml / 1500 mg bottle) to 50 mg (1 ml dropper dose of Green River Botanicals 30 ml / 1500 mg bottle) twice daily may be the right dosage amount to ease arthritis symptoms. Remember that not all CBD is created equal, so read your CBD bottle's label and consider the amount of CBD per bottle when determining the correct dose for you.
Applying Green River Botanicals salve directly to the area for more localized pain relief may help with aches and inflammation. A topical salve may also help relieve discomfort more rapidly than internal medicine and can be an excellent supplement to keep pain and stiffness at bay between tincture doses.
There is no cure for arthritis, but CBD may help manage arthritis symptoms. As with any natural herbal supplement, if you're currently taking medication, you should talk with your doctor before trying CBD. CBD is not a substitute but should be used synergistically with prescribed treatment for inflammatory arthritis.